New Website

  Visit our brand new website for
T a n z t h e a t e r Adrian Look: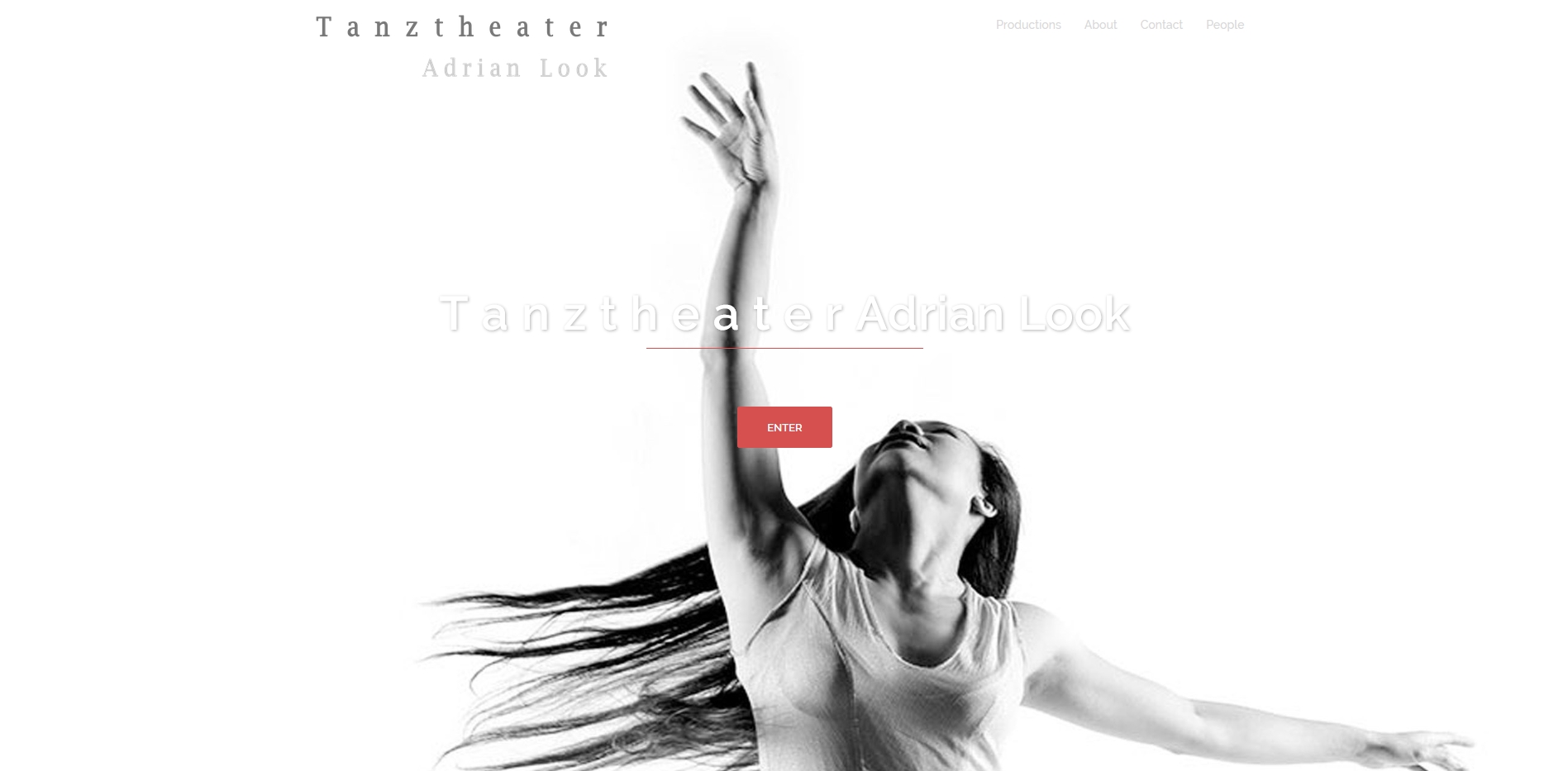 http://tanztheateradrianlook.com
---
Enjoy the summer with us.
Some wonderful opportunities this summer:
Company class  (20 – 31 August) and Repertoire Workshop (1 September) with T a n z t h e a t e r Adrian Look
Summer Tanztheater Intensive
28 Aug – 1 Sept
---
Company class, workshop and open rehearsal with
T a n z t h e a t e r Adrian Look
We are very happy to announce that we received Arts Council Funding for our latest project titled The Art of Humour, an exploration of the balance of humour and drama in contemporary dance theatre pieces.
Please check the following link for all information on our:
Company class 20 – 31 August
Repertoire Workshop 1 September
Open rehearsals 24 + 28 August
---
Tanztheater Summer Intensive
(Aug 28 – Sept 1)
Tickets here

After a great Summer Intensive last year we managed to hire the wonderful studios at The Place again for a week of intensive courses, all linked to the Tanztheater philosophy.
A different style each day will bring you the ultimate insight of what makes Tanztheater one of the most versatile art forms we know today.
Here is the schedule:
(All classes will be in Studio 3 at The Place)
Time:
18.30 – 20.00
Tue 28 Aug: Tanztheater technique
Wed 29 Aug: Contact Improvisation / Partner Work
Thu 30 Aug: Classical Ballet
Fri 31 Aug: Choreography / Improvisation / Composition
Sat 1 Sept Aug: Release technique
Level:
All classes are open level. If you are a complete beginner please get in touch with me beforehand to clarify expectations and avoid disappointment.
Tickets:
You can book each class individually or choose the All Classes- package that will give you some significant discounts.
Please note: The drop in price on the day will be slightly higher so best book online before the class.
Early bird ticket sale ends on Sunday, August 12th
Select the correct date of the class you want to attend based on schedule above. ( For example if you only want to attend the Ballet class, select Thursday.) If you book all classes select the Tuesday.

Several options are available:
Early Bird All Classes: £50 for 5 classes (Best Deal, equaling £10 per class)
Early Bird Single Ticket: £11 per class
Regular Ticket All Classes: £60 for 5 classes (equaling £12 per class)
Regular Single Ticket: £13 per class
Autumn Term starts September 10th
Here are all classes for the upcoming summer term:
Mondays  16.00 – 17.30 
Contemporary Dance: General (M)
Mondays  18.00 – 19.30 
Ballet Beginners (M)
Tuesdays  14.00 – 15.45
German Tanztheater 1 (M)
Tuesdays 16.45 – 18.30
Performance Group (M)
Tuesdays 20.00 – 21.30
German Tanztheater Level 1-2 (The Place)
drop in
Wednesdays 19.00 – 20.30
Tanztheater at Trinity Laban NEW
19 Sept – 24 Oct
Level 3 | 6 week course | Drop in
Thursdays 18.30 – 20.00
German Tanztheater Level 2-3 ( The Place)
drop in
Fridays 18.00 – 19.30 
Ballet Beginners and Improvers (M)
Fridays 20.00 – 21.30
German Tanztheater 2 (M)
Saturdays 14.00 – 16.00 
Choreography/Improvisation (S.Davies)
monthly (different dates)
drop in
Saturdays 18.00 – 20.00
German Tanztheater (The Place)
monthly (1st SAT of each month)
drop in
Save
Save
Save
Save
Save
Save
Save
Save
Save
Save
Save
Save
Save
Save