News
  Visit our brand new website for
T a n z t h e a t e r Adrian Look:

http://tanztheateradrianlook.com
---
All classes :
(M) = Morley College
Special I
Summer Course at The Place
(14.-18.Aug)
This is a level 3 course.
Mon 14 – Fri 18 August.
Time:
10am – 11.30am each day.
The course fee of £65 covers all 5 classes.
Tickets:
http://www.theplace.org.uk/whats-on/contemporary-level-3-adrian-look
This class will be based on the principles of German Tanztheater but will also incorporate elements of Graham Technique.
We will start the class with a contemporary barre or in the centre straight away.
With an emphasis on expression and freedom inside of a technique we will work with the principles of swing, drop, reach, contraction, centre-driven movement, nuanced weight transfer, intention, focus and performance. The class expands the dancers' technical, dramatic and artistic range. The main goal is to use the technique in order to express an emotional state. The class aims to let go of any unnecessary extras and consequently strives to use conscious and meaningful movements
It is the investigation of working from the inside out, from placing the bones where the muscles and the mind are allowed to function efficiently.  This is an excellent opportunity for dancers to either be introduced to or continue the pursuit of German Tanztheater and the Graham technique.
---
Special II
Summer Intensive with TAL
(21.-25.Aug)
After a successful first edition two years ago we managed to hire the wonderful studios at The Place again for a week of intensive courses, all linked to the Tanztheater philosophy.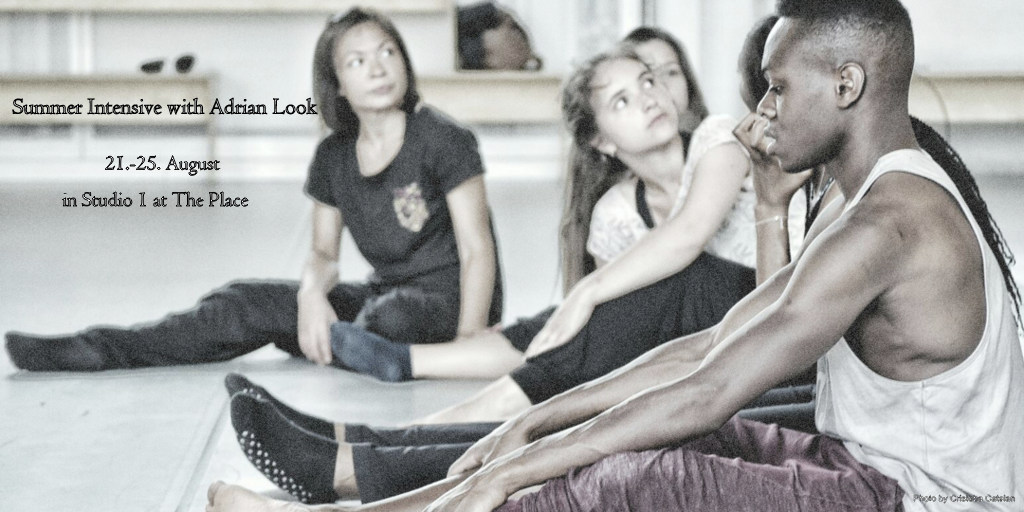 A different style each day will bring you the ultimate insight of what makes Tanztheater one of the most versatile art forms we know today.
Time:
18.00 – 19.30 pm each day.
Tickets:
Early bird ticket sale ends on 31st of July.
https://www.eventbrite.co.uk/e/summer-intensive-with-tanztheater-adrian-look-21-25aug-tickets-35570774143?aff=efbevent
Here is the schedule:
(All classes will be in Studio 1 at The Place)
18.00 – 19.30 pm
Mon 21 Aug: Contact Improvisation
Tue 22 Aug: Tanztheater technique
Wed 23 Aug: Classical Ballet
Thu 24 Aug: Choreography / Improvisation / Composition
Fri 25 Aug: Release technique
Several ticket options are available:
Early Bird All Classes: £40 for 5 classes (Best Deal)
Early Bird Single Ticket: £9 per class
Regular Ticket All Classes: £50 for 5 classes
Regular Single Ticket: £12 per class
Drop in on the day (cash): £14 per class
---
Brand new course from September
Dance and Film
for Dancers and Filmmakers
(12 Sep 2017 – 17 Oct 2017)
Tuesday 16:15 – 17:45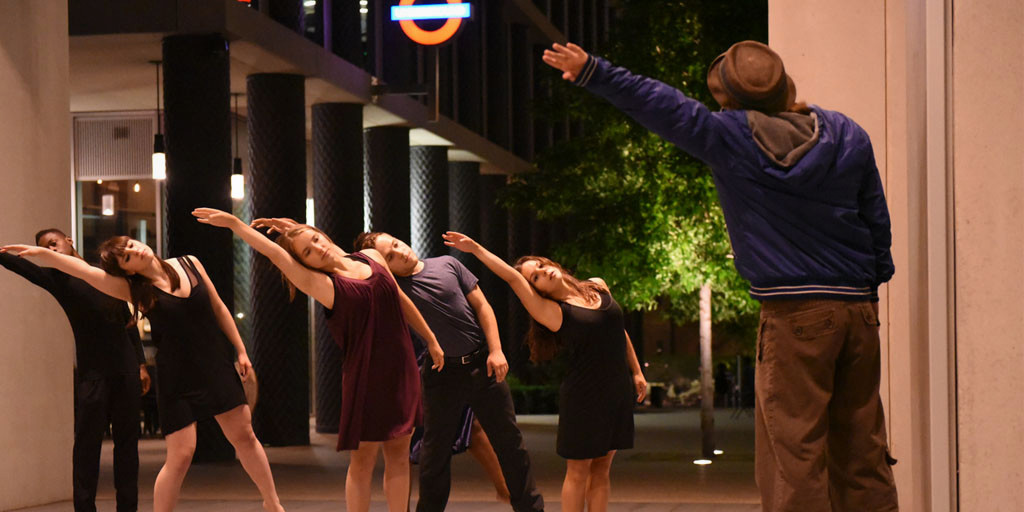 Explore the fusion of dance as a medium for video and vice versa. Joining either of our two courses running simultaneously across a six week period in the autumn term, dance students and videography/photography students, working separately for the first session so as to gain particular skills relevant to their own specialism, would then come together to explore the creativity and proficiency relevant to the craft of combining dance and film making.
This combined area of study provides a great opportunity for all participants to gain new insights and appreciation for each other's art forms.
Danilo Moroni will lead the sessions for the Filmmakers:
https://www.morleycollege.ac.uk/courses/3771-practical-dance-and-film-for-filmmakers-and-photographers/5557
Adrian Look will lead the sessions for the Dancers:
https://www.morleycollege.ac.uk/courses/3770-practical-dance-and-film-for-dancers/5556
---
German Tanztheater with Adrian Look at The Place
Adrian is teaching a regular evening class at The Place, as part of their adult evening classes.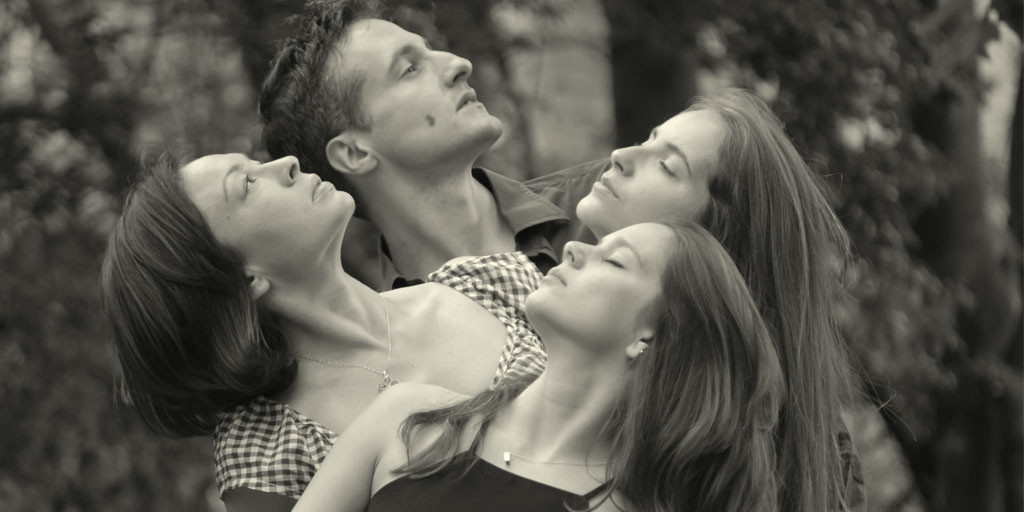 Term dates:
26 Sept – 05 Dec
Day: Tuesdays
Time: 6.30 – 8pm
Tickets:
http://www.theplace.org.uk/whats-on/german-tanztheater-level-12-adrian-look-0
Level 1-2: This class is for students who hold a basic understanding in contemporary or ballet and would like to develop their skills. The class will work further on technique and learning the dynamics of movement phrasing, building confidence and expanding knowledge and performance skills.
---
Monthly workshop about the Improvisation
approach of German Tanztheater (Pina Bausch)
Siobhan Davies Studios

From September to November we will have three workshops about the imrovisation approach of German Tanztheater.
Learn the unique approach behind the beautiful expression of Tanztheater, most famously used by Pina Bausch.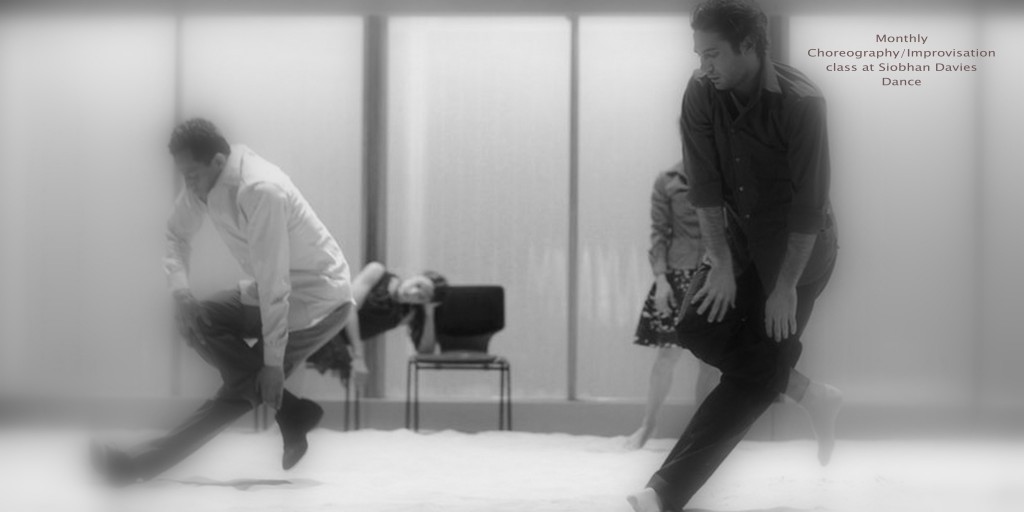 Details:
Dates:
Sept 16
1.15 – 3.15pm
Oct21
10.15 – 12.15
Nov 4
2.00 – 4.00pm
Venue: Siobhan Davies Dance Studios
Price:
Combi ticket 1 (All three dates Oct – Dec): £35
Combi ticket 2 (Two dates until Dec 9th): £25
Single date: £15
Alternative payment here: Pay online here
Tickets: Eventbrite / Bank transfer
---
Monthly Tanztheater technique class
The Place
Learn the technique behind the beautiful expression of Tanztheater, most famously used by Pina Bausch.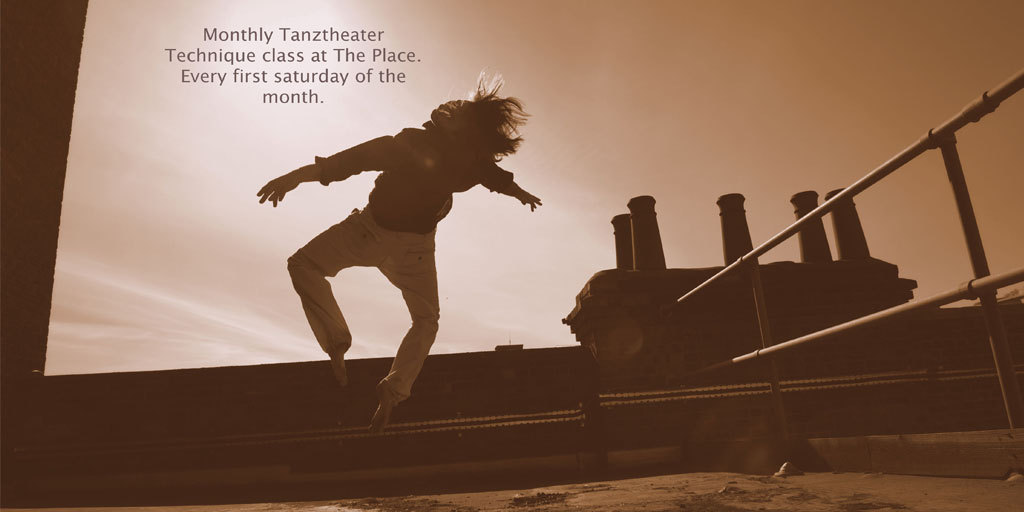 Details:
Dates:
Oct 7
Nov 4
Dec 9
Time:18.00 – 20.00
Venue: The Place, Studio 6
Price:
Combi ticket 1 (All three dates Oct – Dec): £35
Combi ticket 2 (Two dates until Dec 9th): £25
Single date: £15
Alternative payment here: Pay online here
Tickets: Eventbrite / Bank transfer
---
Classes at Morley College

(Enrollment only)
Save
Save
Save
Save
Save
Save
Save
Save
Save
Save
Save
Save
Save
Save