---
First video is out now:
T a n z t h e a t e r Adrian Look is supported by One Dance UK and Morley College for this project.
Photo and video by Cristobal Catalan
A Thousand Eyes is funded by Arts Council England
---
Ease – Extract of Seize the Day
Event organiser: Movement for Hope
Choreographer: Adrian Look
Dancers: Maria Ines Sousa, Morena de Leonardis and Daniel Potter.
Click image for more pictures: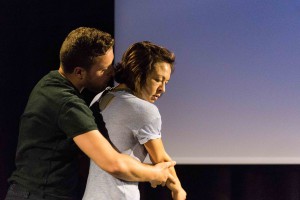 ---
The workshops on the Improvisation approach of German Tanztheater (Pina Bausch) will take place once a month at Siobhan Davies Studios
Details:
Dates:
September 10th
October 22nd
November 19th
December 10th
Time:14.00 – 16.00
Venue: Research Studio
Price:
Term Pass*: £64
Combi ticket 1 (All four dates in 2016): £40
Combi ticket 2 (For two dates in 2016): £25
Single date: £15
*(all four classes of the Technique class at The Place + all four classes of Choreography/Improvisation at Siobhan Davies)
Alternative payment here: Pay online here
Tickets: Eventbrite / Bank transfer
---
Every first Saturday of the month we will host our German Tanztheater workshop at one of London's leading dance venues.
Dates:
September 17th
October 1st
November 5th
December3rd
Time:18.00 – 20.00
Venue: The Place, Studio 6
Price:
Term Pass*: £64
Combi ticket 1 (All four dates in 2016): £40
Combi ticket 2 (For two dates in 2016): £25
Single date: £15
*(all four classes of the Technique class at The Place + all four classes of Choreography/Improvisation at Siobhan Davies)
Alternative payment here: Pay online here
Tickets: Eventbrite / Bank transfer
---
Classes at Morley College from September 2016